Roast Pumpkin Soup
Makes about 1 ½ litres
1.5kg of pumpkin to yield the 1kg of peeled, deseeded pumpkin
4 medium cloves garlic, unpeeled
1kg peeled, deseeded pumpkin
1 tablespoon (20ml) oil
1 large (about 160g) onion, finely chopped
1/2 teaspoon ground nutmeg
1 teaspoon ground cumin
Salt and pepper, to taste
1 litre (4 cups) vegetable or chicken stock
Cream, for serving
Ground nutmeg, for serving.
Preheat oven to 190 degrees Celsius (170 degrees fan-forced).
Chop pumpkin into even-sized pieces (larger pieces will require a longer roasting time). Place pumpkin and unpeeled garlic cloves in a baking tray/dish, drizzle with three teaspoons of the oil and toss to coat with oil. Bake for 20 minutes, then remove the garlic so that it doesn't overcook. Continue baking pumpkin until tender and cooked through. Keep an eye on the pumpkin to ensure it doesn't burn.
Heat remaining teaspoon of oil in large (at least 2.7 litre capacity) saucepan over low heat. Add onion and cook, stirring often, for about 8 minutes until slightly softened. Add nutmeg, cumin, salt and pepper. Cook, stirring, for one minute.
Add pumpkin and stock and bring to the boil. Reduce heat and simmer, uncovered, until onion is soft and stock has reduced, about 20 minutes. The more the stock reduces, the thicker the soup will be.
Peel roasted garlic and add to saucepan. Allow the soup to cool for about half an hour before pureeing in batches in a blender. Be careful if pureeing the soup while it is still very hot. Serve the soup hot. Top with a drizzle of cream and a sprinkle of nutmeg, if desired. Store soup in an airtight container in the refrigerator or freezer.
Adapted from Exclusively Food, July 20 2006.
(831)
Others Also Bought
More From This Category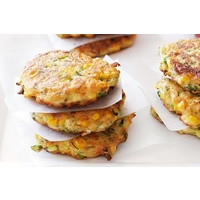 $0.00